Tuesday, July 25th, 2017
28 July is the 12th anniversary of the passing of my mother, 28 July 2005, 11.32h. I normally don't post much about private things but I would like to make an exception and share with you some thoughts from the talk I gave at the church during the farewell ceremony. She still means a lot to me.
"When I think back in my life, to the very first traces of memory, my mother was already there. After all, it was she, or more precisely, father and mother, who gave us children the bodies. She has guided us into life, taught us the first things and coined our attitudes. Now she has passed on. Her departure touches deeply, provokes emotions, pictures, impressions and thoughts.
For me, a decisive imprint was her deep spirituality that characterized her life. This includes the feeling of being embedded into a larger whole, of being carried by it and of devoting one's life to it. For Ursula, this meant wanting to give more than to receive. To give without expecting anything, in a silent, modest attitude. For her, giving meant not only to give us children food, to ensure a well functioning household. It meant being there with an inner presence, being interested in the others, taking part in what they were doing, and perceiving where others needed help. And thus, Ursula gave – with her visits to the sick, with her commitment in the church community, to people in her circle of acquaintances who needed help.
Ursula had a very big heart and she was always helpful, and often it was with inconspicuous things, seemingly self-evident things like ironing for the family, sewing on buttons or taking care of some errands for someone.
Ursula's day began early, and I have probably inherited from her the tendency to get up early. When during my visits in the last few years I came out of the bathroom  she prepared already something in the kitchen before she sat down in her room for her "holy hour" from half past five to half past six, meditating, reading, writing down her thoughts. From out of this time of contemplation, she drew strength for the tasks of everyday life before she went into the daily routine.
For many years, as long as her powers permitted, she drove to the public swimming pool early in the morning to make her rounds immediately after the doors were opened. My father took over from her this early morning exercise and he also started his day by going to the swimming pool.
After breakfast and household duties, she went for errands, for visits to the hospital, to women's congregations or devotions. The regular church visits to the Mass and to devotions were important rhythms and cornerstones of her life.
Ursula was a person of action and not of many words, but she took part in what was happening in the world. She clearly adressed injustices, particularly discriminations and discriminatory attitudes towards women. It was something that I especially observed and appreciated in her older years.
Ursula had her attitudes and principles, but she did not impose them onto others. She was able to accept other opinions and ways of life without condemning, and she could give people space. She was open to our inner search and our experiments with life, even if they were not hers. As if from the background, she supported the family and thus, gave home, a home for our father, for us children, even for the grand-children. The house had open doors for the people who came.
With her passing, we feel even more clearly what she had given us, and it fills me with gratitude. Although we will miss her, I know from Ursula that it is not her wish to see us sad. It is not without reason that the tombstone of her parents, where she is buried, carries the symbol of the risen Christ, and Ursula also lived with the firm knowledge of the immortality of the soul. May this knowledge keep us connected with her.
To conclude, I would like to draw a small picture of her with a short poem for Ursula:
Remained at one place and still walked far
Lived with one man and yet loved much
Remained loyal to one path and yet open other ways
Having given space for being together
Given food, ground and support
Looked for the sky, but not far from the earth
Inconspicuously silent and yet great
A light, a tower, a rock
A heart, a depth, a sea
Woman, mother, and also child
Simply just simple, simple and one"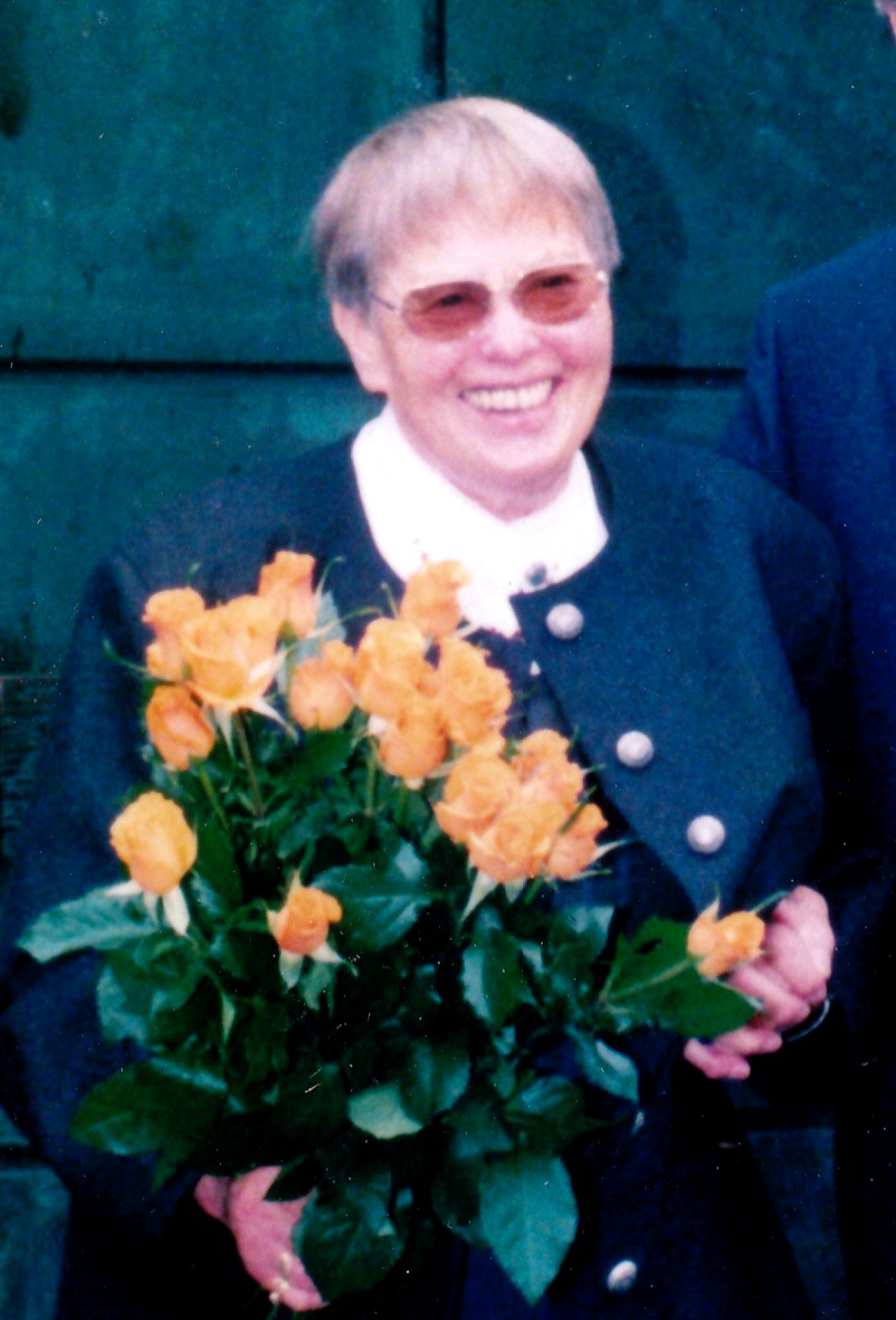 Ursula Philips, 3.3.1926 – 28.07.2005