Water Ritual, an "Oscar" for the "Best Teacher" and an Adventure of Agastya
Thursday morning I got up again very early, around 3.15, to have some time in the bathroom before the others. Some e-mails and a blog-post, then the bus brought us to the Guru Pooja. Anna told me the evening before that Sri Kumar asked me and 3 others to speak at the section on Fusion of East and West. Fine, I thought, but what to speak about? In the bus some thoughts flew in – and then after morning prayer – followed by lecture, breakfast and the thrilling water ritual – the ideas took a more concrete shape. Finally it was different from what I planned. But before there were the rhythmic intonations of Siva Sankar, the brother of Sri Kumar, during the water ritual vibrating through the air and stirring the souls.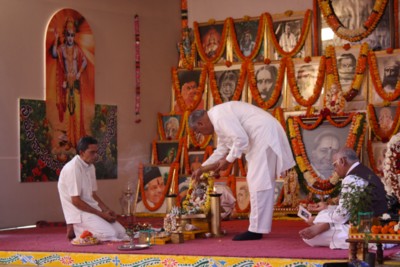 The end of the water ritual – Sri Kumar garlanding the lingam, symbol of the divine Will,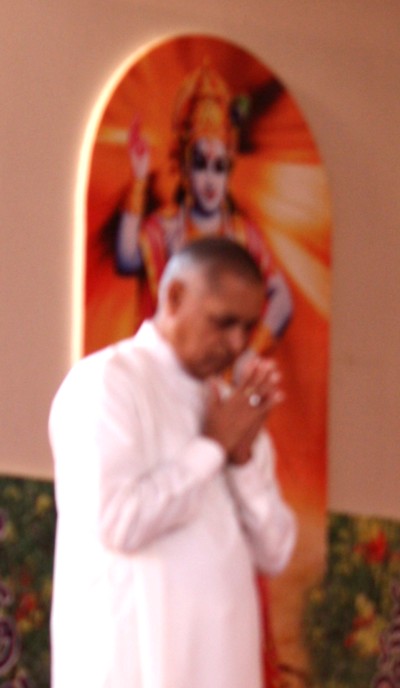 At the end of the water ritual, in front of the huge picture of Lord Krishna
We 4 members of the Western brotherhood asked to come to the stage received a bouquet and then Sri Kumar started speaking about the history of the Guru Poojas. He presented each one of us, starting with me. I don't repeat it here, but it gave me a profound joy to hear how he took up topics from the letter I had given to him using them as a message. He showed some of the 12 paintings (12 copies each) I had brought to the assembly for distribution, and also mentioned the Early Paintings. He went on to speak about the others, the new publications of WTT Spain and Germany, the good-will work done by them. Then it was my turn to speak. Words flew in, it was a touching experience, not to be reproduced here.
Günter, sitting next to him, spoke about the impact the work of Sri Kumar has in the west. Günter had been in the States in September and he presented to Sri Kumar an "Oscar" statue from Hollywood for being "the best teacher" 🙂 Also the other 2 members, from Spain and Argentina spoke in a very authentic way.

Speaking to the translators, without whom we wouldn't be able to follow the talks.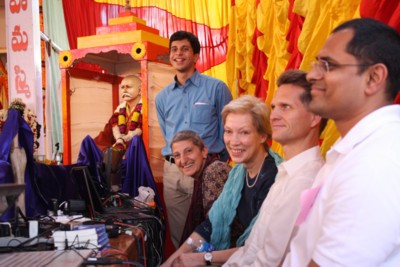 The afternoon I spent again in the beautiful palm forest – talking with friends.
In the evening after the prayer Sri Kumar continued the talk about the Labours of Hercules, but before he published a book about Agastya (see a picture here) and a calendar with pictures of Agastya. Below is an extract from his talk, and in the next blog-post more about Agastya).
After the lecture again dinner and then back to Visakhapatnam for a short night – all were very tired.
"The ashram of Agastya is in the Katraram(?) mountains, there is a Vishnu temple, and when Agastya went into the temple he wasn't admitted to the temple, only Vaishnavas (followers of Vishnu) are accepted. He went away and took to the form of a Vaishnava. He went into the temple and worshipped the form of the Lord and transformed into a Shiva lingam. He said, please see, I'm a Vaishnava but there is a Shiva lingam inside. They were surprised, and he said, just go inside and see yourself. This way it happened in the past." (Another story will follow…)