An Inspiring Life – A Small Remembrance on the Occasion of Master EKs Birthday
Tomorrow is Master EK's birthday. He was born on 11 August 1926.
Although I didn't meet him physically, Master EK (Dr. Ekkirala Krishnamacharya) had a profound impact on my life. His teachings and his way of living impressed me very much. I first heard about him in 1981 but it took long years to "get caught" by his magnetism. His biography "Master E.K. – The New Age Teacher" is an inspiring reading and gives a good insight into his life.
Now there is a series of 6 DVDs relating to the Yoga of Master CVV (coming soon on YouTube); the second part has been published recently, dealing with the early years of Master EK's life.
Here are a few words from a talk of Dr. K. Parvathi Kumar (Master KPK) given on Master EKs birthday in 2011:
"It is not easy to understand a Master. We just make some conclusions about him without knowing anything about him. We consider him someone similar to us. He appears so but he is not. He appears to anyone according to their own belief and though. What a Master can do in this creation, even the cosmic intelligences cannot. His work is much greater. That is why there are some disciples who fulfilled themselves just by deeply following a Master and not even looking for the Lord.
A Master gives his disciple all freedom to move as he likes but keeps a constant check on him to protect him due to his compassion towards his disciple. Generally the relationship between the Master and disciple goes on for lives and lives and does not end with just one life.
Master EK is one such grand Master who has come down to help us all in the path. He is such a grand light but he just lived a simple life. He said "I believe in simplicity and not in publicity." His sight is a great vision. He used to appear as if he did not see us but just by seeing anyone for a moment, he could understand the complete stature of the other person from his past to present. He just behaves as an image to us. If we greet him, he greets us; if we talk to him, he talks to us, if we are arrogant towards him, he would be very arrogant and so on. So there is nothing we can understand of him. It is even useless to even try to understand him."
It is good to remember a Master and his qualities on his birthday – and it is uplifting to us.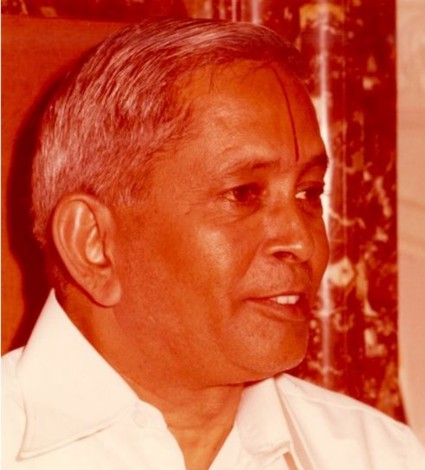 Master EK, 1979