Desert Breath – A Land Art Installation in the Sahara Desert
Desert Breath is an immense Land Art Installation dug into the sands of the eastern Sahara desert bordering the Red Sea in Egypt. Covering an area of about 100.000 m2, the construction of Desert Breath began in June 1995 and was completed in March 1997. The team was founded in 1995 by: Danae Stratou (installation artist), Alexandra Stratou (industrial designer & architect), Stella Konstantinidis (architect), for the purpose of creating this project.
On her website, Danae Stratou writes: "The project is rooted in our common desire to work in the desert. In our mind's eye the desert was a place where one experiences infinity. We were addressing the desert as a state of mind, a landscape of the mind. The point of departure was the conical form, the natural formation of the sand as a material…. Desert Breath still exists becoming through its slow disintegration, an instrument to measure the passage of time."
You can have an aerial view of Desert Breath from Google Maps.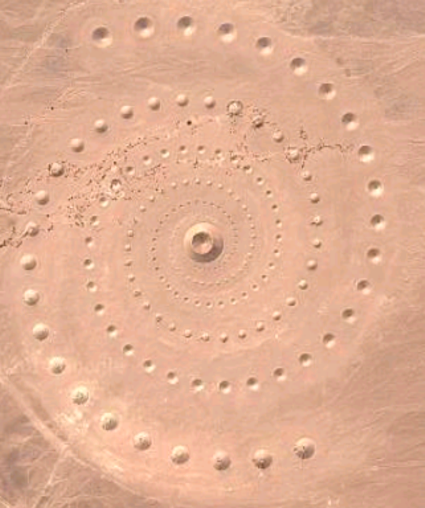 Printscreen from Google Maps (c)
"Desert Breath" Land Art Installation, by D.A.ST. Arteam, Egypt (1997)