Aquarius – Agastya and Sirius
The Wisdom Teachings speak of Agastya or Master Jupiter as the oldest member of the Spiritual Hierarchy. Since time immemorial, he has been a great sage on the earth and his deeds have been described in the Puranas. In South India, he is also called Agathiyar and worshipped as a Siddha having his abode in the Nilagiris or Blue Mountains. He is closely linked to the energies of Sirius and on the zodiacal level he presides over the sign Aquarius.
The creation of this picture was a paradox for me: I pondered upon it for few weeks. There was the initial impulse for the image of Agastya but I thought it must be something else – and no thoughts came. I felt frustrated but finally followed the original impulse to do the picture with a photo of a statue of Agastya. For the background, I took a photo of the mountain in the Nilagiris which is said to be the location of the ashram of Agastya. Then I integrated a photo of Sirius. Using the computer and pencils, I worked on the colours and details of the expression. When the picture was ready I was thrilled about its radiance.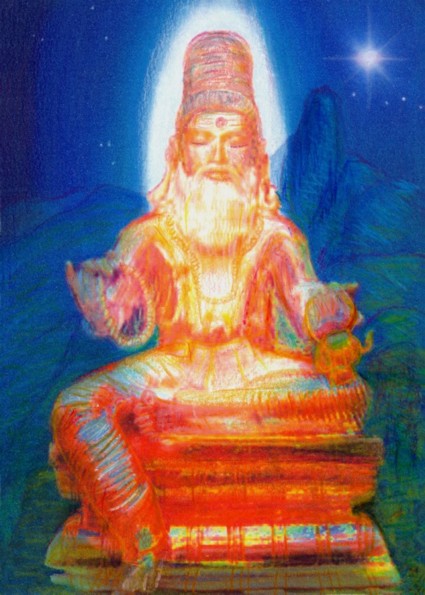 30 September 2013, pencils and photo work