University of the People
The United Nations have just officially announced the "University of the People" launched in April 09. It is a new online university, which for the moment is still free, but later will charge some modest study fees to maintain the university. The  UN Global Alliance for Information and Communication Technology and Development (GAID) wants to show how an online university can improve the formation situation world-wide with modern information and communication technology, as the German online magazine Heise.de writes.
While up to now many people on the planet cannot attend a university, the Web 2.0-technologies now allow students to study at home, using open source technologies and open course material as well as e-learning methods and methods of peer  to peer teaching. They offer classes with 15 – 20 students each with one lecture per week and a weekly work and learning schedule of at least 8 hours.
Up to now they have about 200 students from 52 countries in computer science and economics. For the first semester they don't take more than 300 students. In the course of 4 years they want to extend it to 15'000 students. The final exam will correspond to that of a Bachelor for the moment, they hope to be accredited as a full university in the next years.
A very inspiring development.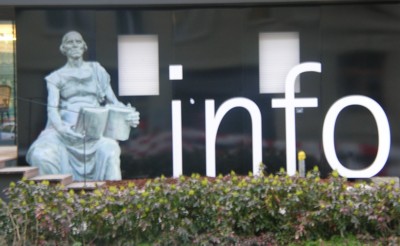 Info-kiosk in front of the Swiss Federal Palace during renovation