A Lighter Side of Spirituality: Spiritual Jokes
I yesterday dropped over a website on Buddhist jokes called "A Lighter Side of Buddhism", by a Buddhist software engineer working at Google. His motto is, "Life is too important to be taken seriously." Though not all jokes are easily understandable for non-Buddhists, you find a lot of funny staff.
You can also go to "Beliefnet" ("Inspiration, Spirituality, Faith") where you find a daily joke, and you can group the jokes by faith (Christian, Jewish, Buddhist, Muslim, Hindu, Pagan, Everybody, More… ) or by topic … They have put a "Bad Joke Disclaimer" on their side, as a protection against bigots and others: "We recognize that religious humor can be risky. It is our hope that by laughing at ourselves (and others) we can make this subject more approachable. If you find any of these objectionable, we apologize. As with most jokes, the original authors are unknown – but we thank them."
Jokes and humour are a great skill of teaching. Our spiritual teacher, Sri K. Parvathi Kumar, often brings laughter to his listeners and thus opens the doors of attention.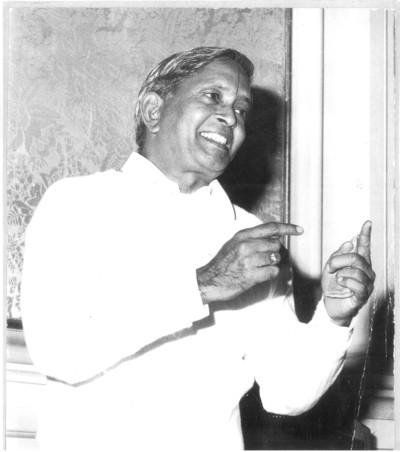 Also Master EK's talks were full of humour. Photo of a friend.