River-Bath, Temples, Flowers, and a Boat Ride on the Godavari
Tuesday afternoon we set out for a 5 hs ride to Rajahmundry at the banks of the Godavari River. At a pause I noticed the little talisman at the radiator grill of our bus (I had seen such decorations before) and I asked one of our Indian companions. He explained the symbolism of each of these elements and said that it helps clearing the energy on the road so that no negative energy comes in the way. When some diabolics look at the face of the black mask the energy of their looks get diverted and is thus neutralised… I thought, a practical cleaner – and we had a save journey 🙂
Wednesday early morning we had a morning meditation with our Indian friends. Here is a small Krishna statue on the podium with their altar, surrounded by holy tulsi plants.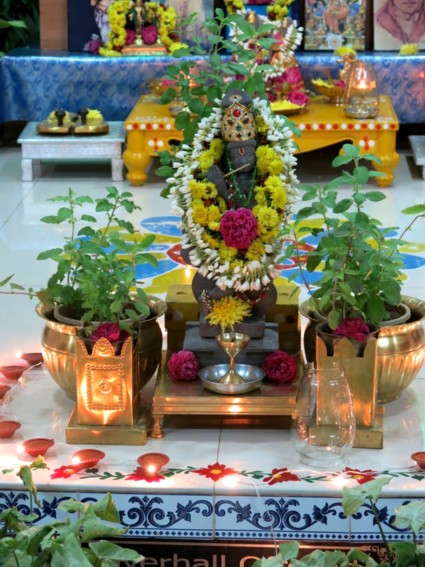 On the top of their building there is a little shrine with a statue of Master CVV, which was to be decorated with a flower garland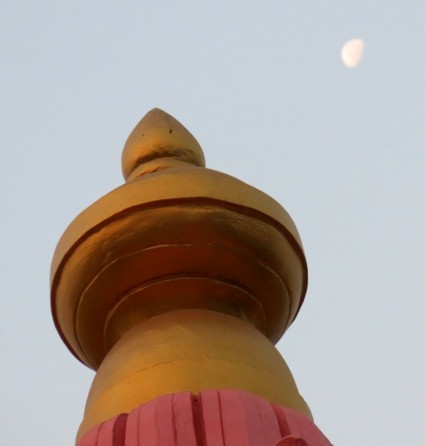 The 6th descending moon phase over the little shrine

Garlanding the statue of Master CVV
In the meanwhile the rose colour of the early morning sun started piercing through the mist over the Godavari River with its magic light.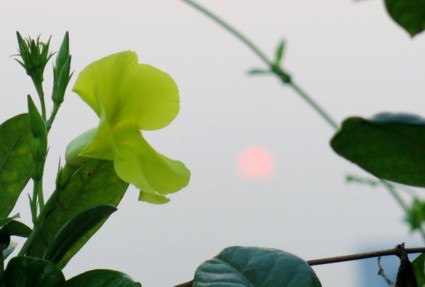 We went down to the river to have a bath, greeting the morning sun-rays chanting the Gayatri mantra.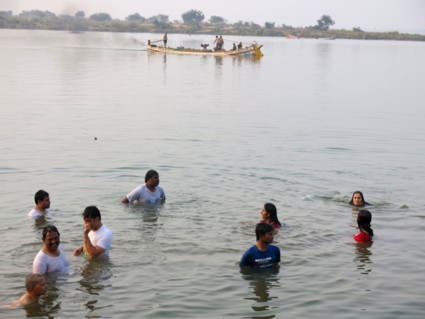 A fantastic golden light painted the scenery with a soft glow.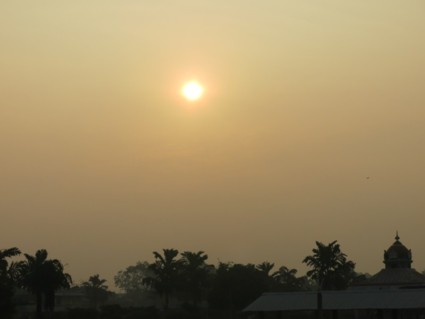 After breakfast we set out for a 1 h bus ride. We took a smaller bus for the roads were too small for the bigger one. Soon after Rajahmundry we crossed a big dam constructed by the British over 100 years ago for regulation of the river and for irrigating the countryside. There is a very fertile area with many rice fields, banana and coconut plantatations and tree and flower nurseries. First we went to see an old temple of Jagan Mohini in Ryali. In the centre of the temple there was a statue of Lord Vishnu with Mohini, an aspect of the divine Mother, on his back.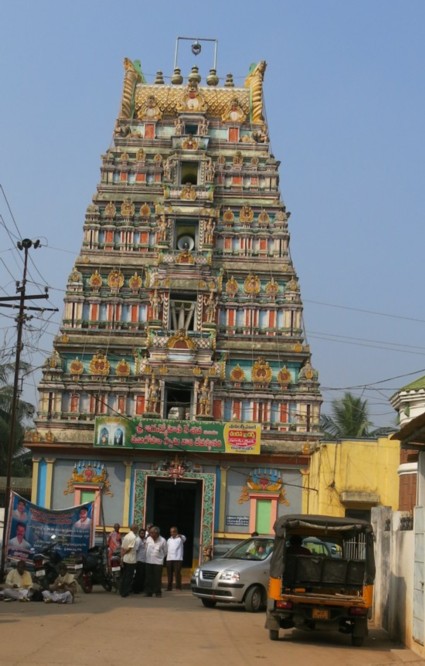 A sculpture of Lord Narayana over the entrance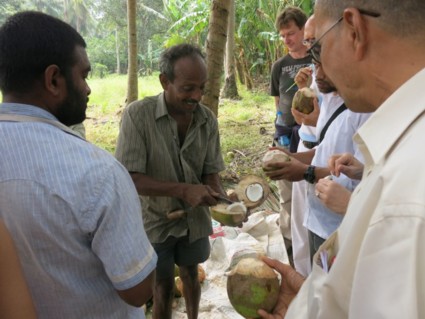 Then we made a short stop at a biological farm for a coconut drink. Afterwards we visited a huge tree and flower nursery of a group member of WTT Rajahmundry. They are exporting flowers all over India and abroad. It was very impressive to see all the many flowers. There were some lotus ponds. When I wanted to take a photo of some lotus flowers and approached one of the ponds, I stepped on a wet slippery ground and fell longside into the mud of the lotus pond. Luckily there was a water pump next to the pond and I could wash of the mud from my clothes, arms, legs and shoes. A soft lotus pond blessing….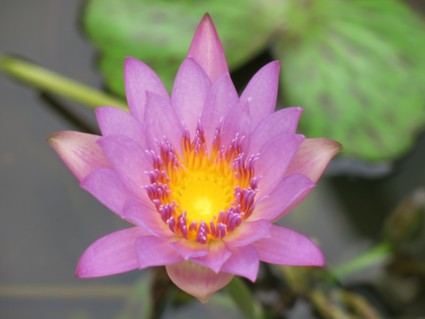 Lotus love: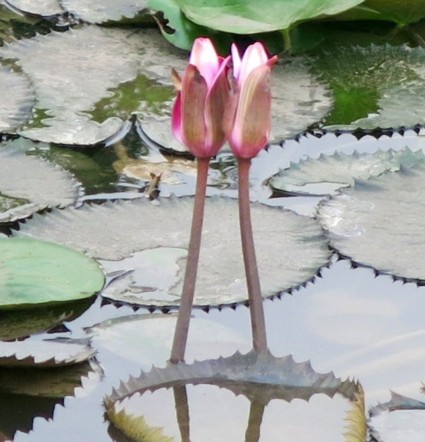 After lunch we went to the Godavari river for a beautiful boat ride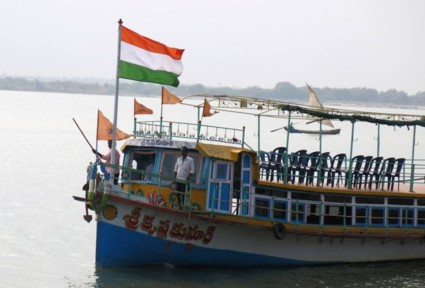 Our boat is approaching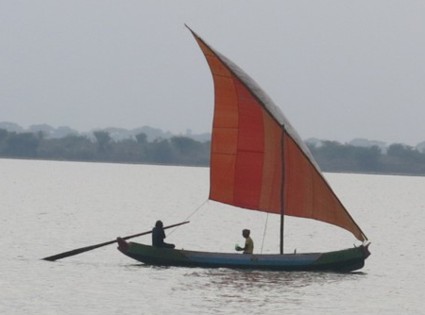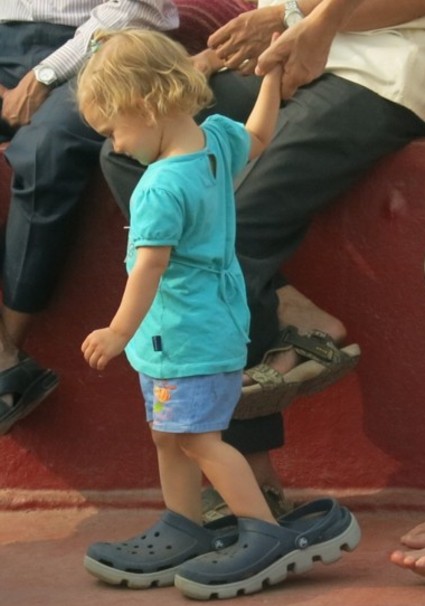 The youngest of the group members stepping into the future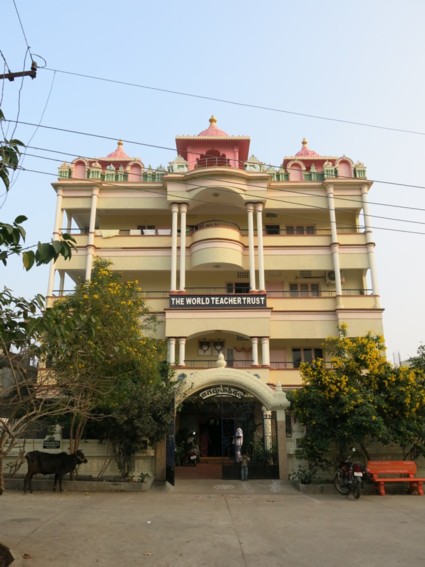 The WTT Centre of Rajahmundry where we spent the night
Around 5 pm our bus started for the night ride back to Visakhapatnam. A short night followed by an early morning fire ritual in the garden of Sri Kumar, again a magic ambiance.