Saturday, March 14th, 2015
I came across a Facebook page of "Not Impossible Now", a "global web-based community of people who pool knowledge and resources to create technology for the sake of humanity" – a fascinating combination of good will and technology.

In their mission statement "About" they say: "We at Not Impossible Now believe in technology for the sake of humanity. While nobody can do everything, everybody can do something, so we crowdsource our solutions to real-world problems. Suddenly, yesterday's pipe dreams are Not Impossible Now! By helping one person we can all inspire others to do the same – it's our "Help One Help Many" philosophy and it breaks down barriers, enabling greater access to all in need."
The name "Not Impossible Now" is exactly expressing what they are doing. They show some incredible uses of technology which they make accessible to handicapped people or other people in need.
There is for example the viral story of a blind women who can see her new-born son for the first time with the help of eSight, electronic glasses that enable the legally blind to actually see: "With eSight, I get to see and do things just like any other normally-sighted person. I can see my children's faces while I do all the things moms do, I can see as I work as an artist, I can see as I work on my computer and watch TV, I can see as I raise money for other blind people, I can see as I travel independently on subways, buses, trains and airplanes, I can see a hockey game, I can see as I play golf."
With the help of fundraising, they are now striving to make this high-tech solution accessible for other blind people.

Picture from the video (c)
Another success story is helping to spread the benefits of 3D printing to the developing world. Like 3D printed prosthetics – arms, legs, robohands… They allow hospitals to provide custom-fit prosthetics to amputees at a much lower cost. They have started providing 3D printed prosthetic arms for children of war in Sudan which are just around 350 dollars – much cheaper and better than conventional prosthetics. There is now a new project to bring inexpensive prosthetics to the masses with a 3D printing farm. Read here an article by HP about the use of 3D printed prosthetics.
Here you can see a touching video of a 7 years old boy receiving a 3D printed "bionic" arm from "Iron Man" Robert Downey Jr.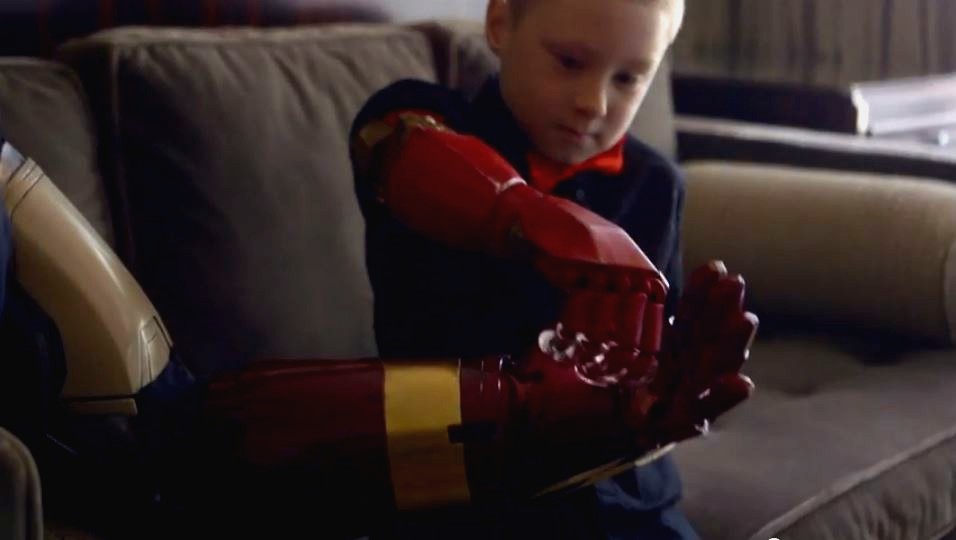 Picture from the video (c)
You find many more compelling stories or tools on the Not Impossible website. Like the one of a menstrual cup by a Finnish woman, Lunette, which is now on sale in over 40 countries.  Or about many other innovative technical solutions made available to reach people in need.
As their slogan says: "Inspiration from Innovation? It's Not Impossible Now!" See also the other Facebook page of the Not Impossible Foundation.