Leo – Hercules Conquering the Inner Lion
The story of Hercules is the symbolic journey of inner transformation and initiation. Hercules represents the aspirant becoming a disciple and realising himself as a soul. Later on, he further ascends to realise the Universal Soul. The Labours of Hercules are a journey through the zodiac and the fifth labour corresponds to Leo.
Hercules is asked to kill the Nemean lion. The lion represents our lower nature, the personality. Killing the lion means overcoming our ego and realising our identity as a soul. The cave of the lion is the heart. We go inside and listen to the sound of respiration which is compared to the roar of the lion. By observing the pulsation we slowly get to the subtle pulsation; this is called "entering the cave within the cave". In a deep meditative state, when the respiration ceases, we meet the Higher Self. Only the original thought "I AM" exists; no other thought remains. When there is no more identification with the personality, the "lion is killed". However, the Teacher tells Hercules that the lion needs to be overcome again and again; otherwise it will return.
For Hercules fighting in the cave with the lion, I worked on a photo (Wikimedia: Sailko) of a Renaissance brooch. In the background there is the transformed initiate who has realised himself as a part of the Universal Soul. For this, I used a photo (Wikimedia: Wouter Engler) of a bronze statue of Hercules of the 2nd century CE excavated in Pompeii (Vatican Museums). The golden colour of the statue symbolises the etheric body of the initiate, where the divine light reflects from above.
See more pictures on the site with my paintings. If you want to print the image, you can download the file in medium and high resolution format.
The different zodiacal signs are clustered in groups – you can see here all my Leo paintings.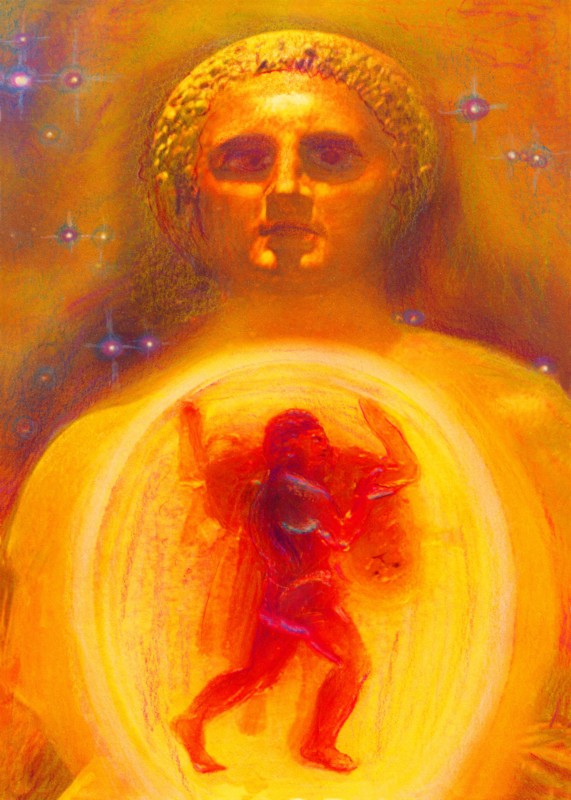 20 April 2017, pencils and photo work