The Rebirth of a Tree
The seminar of the WTT with Sri Kumar here in Visakhapatnam is going on at full swing. He is speaking on "Female Hierarchy" on the cosmic level and in us – a very sublime topic. The seminar is at the hall in the huge  5 storeys-building of Sri Kumar with an open platform on the roof – with a great view over the surroundings and the ocean. The building was finished some months ago, and there are still some floors where construction work is still on.
Sunday morning, there was a beautiful fire ritual at the basement. Afterwards I had a talk with Mr. Kaligotla, an elderly gentleman. He showed me a newly planted mango tree at the left backside of the building. Near that part there had been a big old mango tree who carried lots of fruits. Mr. Kaligotla told me that before the construction work started, Sri Kumar had a long talk of over an hour with the old tree explaining tot he tree that he felt very sorry that he has to get the tree removed and thanked him for all the tree had given. He felt that the tree gave his consent to be removed. He promised to the tree to plant there another mango tree. And this Sri Kumar did when the house was set up. He got a tree which was brought up at exactly the time of the removal of the old tree. Now this new mango tree is like the rebirth of the old one.
After the talk I went up to the 6th floor and enjoyed the sun reflecting in the ocean…
The time is running by fast, and in less than an hour we are supposed to go to Rajahmundry, a city about 180 km south of Visakhapatnam. There we will stay for 2.5 days, coming back Thursday night.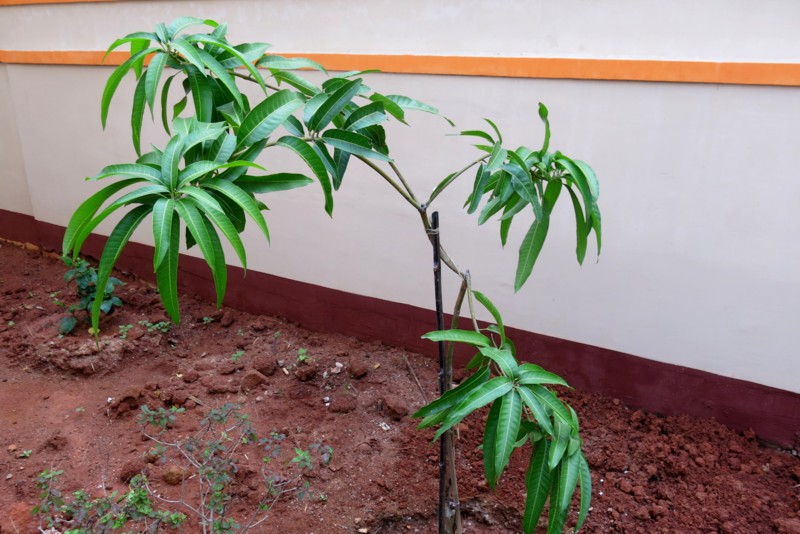 Mr. Kaligotla and the new mango tree