Pisces – Ascension, the Light of the Higher Bridge
The signs of the zodiac have their correspondences in the body. Pisces is not only associated with the feet but also with the area above the head, with the pineal gland and the pituitary body. When the higher consciousness awakens, a light starts to manifest between these two glands and gives rise to an ascension via this higher bridge of light beyond the limitations of the body. Pisces represents the ascent of man into God; it is therefore also called the sign of completion, of the meeting of the "alpha and omega" of creation.
For this picture I used a picture of Jesus and of the transfiguration of the Christ, from a painting of Fra Angelico (1442). I transformed this painting and fused the face of the Christ with a picture of Maitreya. I arranged two photos of sunrises on the front of the image of Jesus, thus generating the view of the radiant etheric centres. I increased the intensity of the eyes which are observing the observer and created a fusion of the subjective and the objective spheres.
For the upper background, I warped a photo of waves rolling onto a beach, producing the impression of the vastness of the etheric ocean of space associated with Neptune, the ruler of Pisces. And the colour of the sign is that of the pure sky in bright daylight. I further worked on the head centre in the middle of which you see the blessing figure of Christ.
See more pictures on the site with my paintings.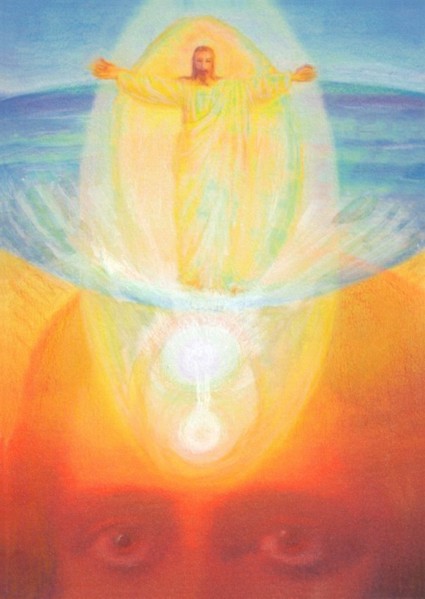 28 October 2013, pencils and photo work