Capricorn – Varaha and Varuna
With winter solstice, the esoteric Christmas festival, we just entered into the month of Capricorn, where the northern journey of the sun starts again.
For several weeks, I meditated on the symbolism of Capricorn but no complete picture came up. There was just an idea but I thought that the complex symbolism cannot be depicted in an appealing way. However, the impulse for the painting continued. And during the work on the picture it slowly manifested. Its symbolism is not easy to be understood by a Westerner. In short: The earth is lifted up from matter to spirit.
At the bottom you see the head of Varaha, the incarnation of Lord Vishnu as the White Boar. The Puranic lore describes how he lifts up the earth from out of the depth into manifestation, and from matter to spirit. Varaha is particularly worshipped in Capricorn.
This month is the dawn of the solar year and also the dawn of the great time cycle of our creation called a Manvantara. The earth is depicted as floating on the surface of the waters of space; it is supported by Varaha and surrounded by a huge etheric lotus flower, the symbol of unfoldment. Behind, there is a great sunrise, and from beyond the sun a dragon rising. On its back you see Varuna, depicted as a five years old boy with four arms. As they move through space the trident in Varunas hands, representing Neptune, is creating lines of force, which are the guiding lines for the Aquarian age. The white dragon, the vehicle of Varuna, is called Makara in the Vedic scriptures, meaning Capricorn.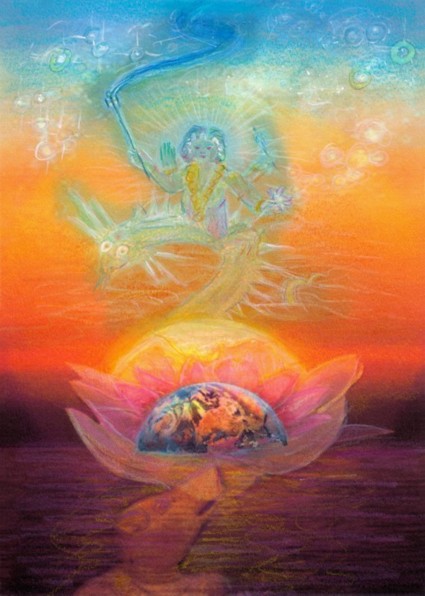 4 September 2013, A 5, pencils and photo work