Start of the Seminar and an Evening Reception
The Guru Puja being over we are now following the seminar in the retreat centre. Or at least trying to follow. It started yesterday in the morning and I had caught a little flue with fever. During the fire ritual in the morning I was surprised how fast it went by – I was sleeping most of the time – and rushed to bed afterwards, feeling weak and dizzy. But I didn't want to miss the lecture. So I sat there and typed notes, a method of staying awake, and either this or the homoeo medicine did its work – at least the fever went away and the head became clearer.
Then again sleeping nearly all of the time till the afternoon lecture, which again kept me awake and well energised in the Presence by taking notes (I'm sending them after the lecture to the WTT mailing list, in case you are interested, please contact me). It is always thrilling for me to follow the lessons of Sri Kumar. He is speaking about the correspondences between Purusha, the cosmic person, and the different layers in us humans as microcosm, a topic interesting me since long.
In the evening we were invited to his house for a reception on the roof. He is so generous, every year we receive a sumptuous meal and afterwards gifts. Music playing, chearful talks under the night sky, an inspiring ambiance.
And today I'm already much better, the head is clear again, just a strong cold – it seems that my etheric body still can improve in warding off the effects of cold winds at a corner of the Guru Puja some days ago…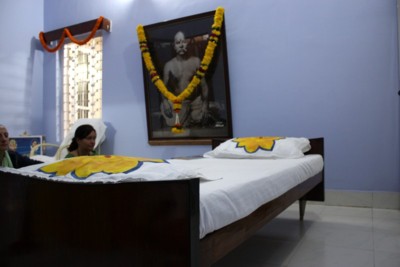 The room where Master EK used to live in the house of Sri Kumar – repainted. I love the vibrating atmosphere there and had a short meditation.

Ladies on the roof of the house – Shanti, daughter of Sri Kumar, Kumari and some Argentineans – the didn't post for me, but I took the pic 🙂

Sri Kumar and Kumari enjoying the reception