Rishi Agastya: A Little Miracle and Some Stories
A friend sent me the following photos of a little miracle Rishi Agastya made some days ago (1st september 10). Rishi Agastya is a sage being with the earth since times immemorial. The first photo shows a poster of Rishi Agastya in the home of seven young devotees: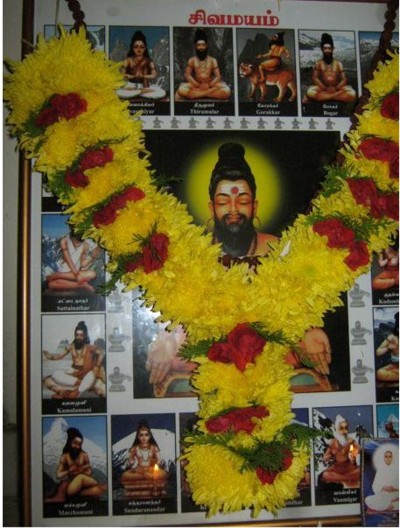 In the second picture taken during prayers Agastya is then captured opening his right eye: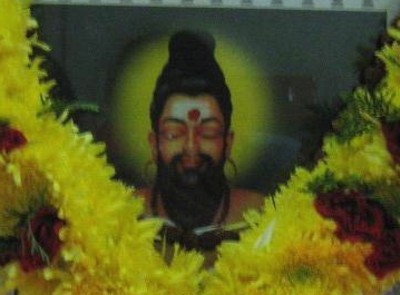 My friend wrote: "He keeps an eye upon his devotees…" A rishi, being a "seer" looks inside, and from the inside out …
You might read a bit about Agastya in the book by Sri K. Parvathi Kumar: "The Aquarian Master", which is about Master CVV, being from the ashram of Agastya. Agastya is also called Master Jupiter, the eldest member of Hierarchy, and there is some thing about him also in the book about "Jupiter", where it says:
"The Master Jupiter is the Avatar of Synthesis who presides over the Aquarian Age. He conducts himself with the triangular force of Neptune, Mercury and Jupiter. He is called the Master of the Nilagiri Hills (Blue Mountains) in the Theosophical Society. He is called the great Sage Agastya in the Vedic tradition. He is the Master whose abode is in Sirius, whose functioning place for our earth is the Blue Mountains of South India. Agastya is the great sage and is the counterpart of the 7 seers of the Great Bear."
Last week I came across a transcription of a seminar given by Sri Kumar in the Nilagiri Hills in 1996 about Agastya, Master Jupiter. He said that Agastya is very different in profile and in appearance from the other Masters of Wisdom: Whereas Lord Maitreya or Master Morya and Master Kuthumi are described as being of a tall stature, having long hair and a beard, Agastya is small and a bit round, radiating smile, of a golden-yellow complexion, bald-headed without any hair (unlike the presentation on the poster…), being dressed scarcely with a lungi, never wearing anything else. He has great, round eyes, is often traveling with his disciples and loves to cook and to serve. Through serving food he likes to spread himself into the people and thus to adjust any imbalances in the mental, emotional, and physical bodies. In his spiritual activities he never treads any trodden paths, but gives new trends and directions, being full of freshness. His live is always accompanied by will, spreading be-ness and presence. He is very humorous and his teachings are very powerful, but nevertheless humorous, thus uplifting the people.
In the scriptures there is the story that once a group of disciples in the Himalaya had the questions who is the one fasting most, and Maitreya told them, "It is Agastya, he never eats." They wanted to see Agastya and went to him. Agastya said: "Observe me for three days."
They were very surprised to see him cooking, eating and serving. He was not missing any meal, and every meal was from our standpoint very excessive in its quantity. After three days the group asked: "We have not understood your way of fasting." He answered: "Insofar as you don't feel that you are eating, it is fasting." He does not think he is eating. He lives in tune with the universal consciousness and in such a tune-up the food is given to all the elementals around him with himself as the channel.