Visit of Sri Kumar
Today at noon Master KPK (Dr. K. Parvathi Kumar) and his son Sekhar came to our house for lunch, together with some group members. We had a very nice time together. I was again fascinated to observe how he spoke with the group members, giving his full attention and uplifting presence. After the meal we took some group picture in the garden and sat for a while in the sun. A little later they left again to go to Zermatt, where they wanted to pass the night at the foot of the Matterhorn.
Half an hour later we got a phone call: A bag with some belongings had remained in our living room; so I took the car and went off. I met them again in Spiez  and joined them for a cup of tea at beautiful place on the board of the lake Thun. We said good-bye, but only for a short moment: Next Tuesday will start the group living for autumn equinox in Kandersteg. Friday I had already been there to bring the flowers for the altar to the hotel.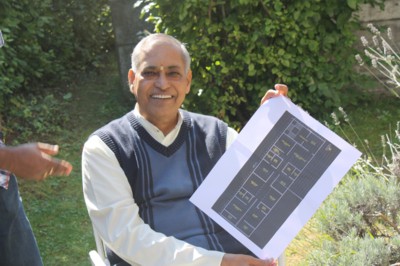 Showing a map of a project.