Weblinks Miscellanea
There are quite a lot of electronic gifts showing up at the moment. Here are some link miscellanea:
1. A friend from Houston Theosophical Society sent the link to a new page of the site of Theosophy Watch, where you find a number of photos of new crop circles from 2009, and a "Crop Circle Documentary 2009" video, from YouTube:
2. The photographer and environmental artist Chris Jordan does a fascinating work of sensitizing people for environmental concerns in a very aesthetic way (I have already before blogged about Chris' work). You find new series of photo mandalas about "Portraits of Global Mass Culture" (-> Running the Numbers, 1 & II) and a new large scale mandala. It is depicting the names of one million organizations around the world that are devoted to peace, environmental stewardship, social justice, and the preservation of diverse and indigenous culture. He has taken the names from Paul Hawken's "Blessed Unrest" project. The mandala is called "E Pluribus Unum", meaning "The Many become One".
Have a look at these other websites:
3. Freydoun Rassouli: a beautiful flash intro to the fascinating paintings of the Iranian artist living in California. There are some e-cards of him on the Good-Will website.
4. And another interesting flash on "Awaken Visions" by Daniel B. Holeman. On his site you find a section about animated art.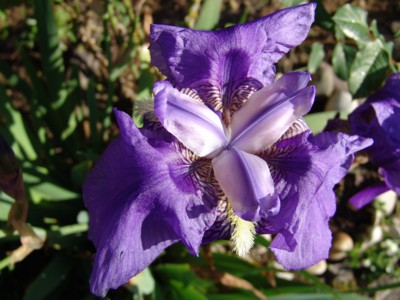 Iris – Photo of a friend