Shaping One's Destiny
A friend from Spain sent today the following wisdom thoughts in Spanish, which my automatic translation program got over into English, with a little manual polishing:
Although you don't write books, you are the writer of your life.
Although you are not an artist, you can make of your life a work of art.
Although you don't understand anything of cinema, your existence can become a successful and extraordinary film.
Although you sing out of tune, your existence can be a beautiful song.
Although you don't understand music, your life can be a magnificent symphony.
Although you have not studied in a school of communications, your life can become a model report.
Although you don't have great culture, you can end up being a great sage.
Although your work is humble, you can transform your day into a master teacher.
Although you have 40, 50 or 60 years, you can be as young as you want.
Although the wrinkles already mark your face, you can have an extraordinary interior beauty.
Although your feet bleed in the obstacles and stones of the road, your face can smile.
Although your hands conserve the scars of the problems and of incomprehensions, your lips can be grateful.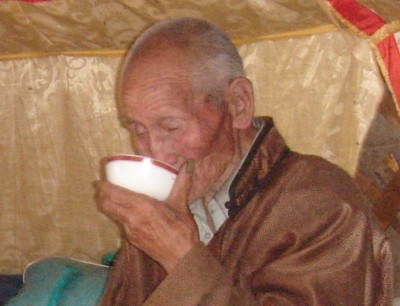 An old Mongolian man in his tent drinking tea. Photo of a friend, 2006