Expressing the Image of an Ideal
This impressive photo from July 1918 shows 18,000 soldiers in uniform forming the Statue of Liberty. They were preparing for war in a training camp at Camp Dodge, in Iowa. It is an authentic photo, and one of a series of group photographs taken by the photographers during and immediately after World War I at U.S. military training camps. Each took up to a week to compose and shoot. The purpose was to unite the people for America's involvement in the war.
The involvement was meant to fight for liberty. Whatever the kind of liberty was they were aspiring for, it is a manifestation of a common thought. Working for a common goal in spiritual matters is of great power and inspiration.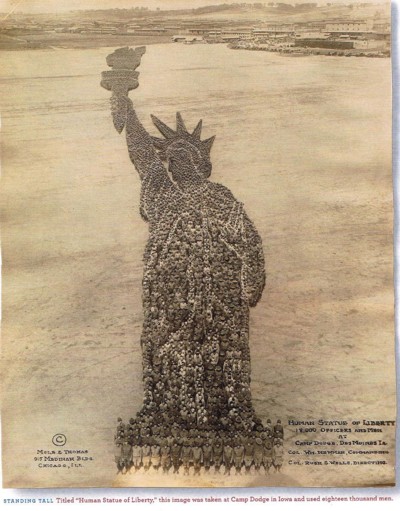 Photo by Arthur S. Mole & John D. Thomas (1918). Source of scanned image unknown.