A Call from a Mayan High Priest
Yesterday a friend from Sweden sent me a text with a call from Don Alejandro Oxlaj, Grand Elder of the Maya, for Global Meditation on May 22. I found it also on the web, posted last Saturday. Don Alejandro is head of the National Mayan Council of Elders of Guatemala, Day Keeper of the Mayan Calendar, a 13th generation Quiche Mayan High Priest and a Grand Elder of the Continental Council of Elders and Spiritual Guides of the Americas.
There are some touching thoughts in his call. It's worth while reading the whole text. Here are a few extracts.
"We all are children of the Earth, we are flowers of the garden of our Creator coming in different colors, in different shapes, in different sizes, with different aromas; speaking different languages, and each one worshiping and meditating in their own way to the same Creator who has different names according to their own culture…."
"Let us talk now about our present times. We enjoy new advances in technology, inventions that make everyday life easier for us, we all use them, but the negative side is that we are finishing up our forests, and contributing to the contamination of the planet, the rivers are drying out, the waters are being contaminated. Our crops are affected by plagues as well as plagues killing our animals. We are threatened by contagious illnesses, incurable illnesses unknown in the past… Very harmful are the use of chemicals, the insecticides, transgenic seeds, etc. …"
"Now lets speak about the future. We, the traditional Mayan elders, and all indigenous peoples in the world, meditate on the future. We don't think only for today, the present, we think for tomorrow, for our children, grand children and future generations. We see a dark shadow approaching, a shadow that will cause a lot of harm. It is the great contamination. All this is due to man's creation… We don't want any more wars, no more death, no more nuclear testing, no more chemicals, because the warming up of the planet is unbearable to Mother Earth. If we don't change, sooner or later, she will strike back with millions of lives lost…"
"Our Creator created us here over the face of the earth to worship him, to love and respect each other. We all are equal, we are flowers of the earth, in different sizes, of different colors, with different songs, with different smell, but all looking at our Creator, honoring him with different dances, different music, different ceremonies. We all plead to him, we are his children, he is the creator of all that exist, all that we see and all which is beyond our senses. He has given us our life with an intelligence to do well…"
May 22nd 2007 is 5 Ajpu, the Day of Grand Father Sun, he shines upon all of us equally, he doesn't know discrimination, he doesn't get lost on his path, he doesn't get ahead or behind of himself. He gives us warmth, he gives us life. One Sun, one Air, one Water, One Mother Earth. May 22nd 2007 day of Grand Father Sun, Grand Mother Moon.
The Maya Prophecy says: "Arise, all arise, not one nor two groups be left behind, together we will see once again the place from where we have come from."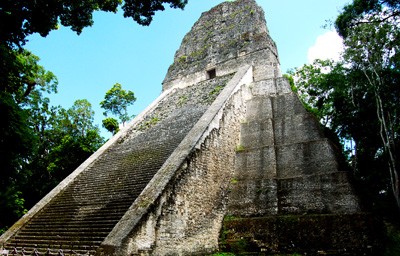 Mayan Tikal Temple, Guatemala, © Leonardo C. Fleck, Wikipedia